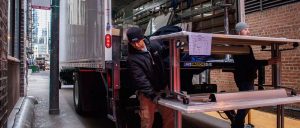 Top Things to Make Sure You Update After A Business Move
A new office space often represents a major achievement for a company. Although, businesses may also relocate as a result of downsizing. Regardless, it's important to update customers and partners during a move. It may also be beneficial for companies to consolidate offices and seek a lease with fewer surplus spaces.
1. Update Business Address
During the transition period, all correspondence should be sent to the new location. This requires updating the business address at the post office. Please forward all correspondence sent to the old address to the new address.
The online presence of the business should be updated as well. A business's local Chamber of Commerce, Yelp, Yahoo Local Basic Listing, Bing Places for Business and Angie's List listings take a considerable amount of time to update.
2. Update Social Media
Facebook, Instagram, and Twitter accounts should be updated with the new business information. You may redesign the cover image of your Facebook page to inform customers about the relocation as well as relevant new information about the business.
3. Update Marketing Materials
Update all marketing materials with the new business information. Customers retain physical items containing information about a business and refer to them frequently. It is important to not only update marketing collateral, but also redistribute it.
4. Update Advertising Campaigns
Businesses should update their paid search campaigns if they are advertising in a new market. Updates are required for key information such as new addresses and location extensions. By updating ad campaigns, you will be able to send customers to the right location.
5. Update Credit Card Company and Bank
It is important to inform the credit card company of the new location of the company. Fraud can also be prevented by updating accurate business information at banks. In order to ensure that important financial documents are sent to the right place, it is essential that all financial entities are aware of this.
6. Update Vendors, Clients and Customers
A new business location should prompt a call to all vendors with whom the company works. Inform existing customers of the relocation, so that they know where to find the business. It is helpful to even directly reach out to existing customers to inform them of the move.
7. Update Industry Associations
All vendors with whom the company works should be contacted upon opening a new location. Make sure existing customers are aware of the relocation so they can find the business where they used to be. You may even want to notify existing customers directly about the move.
With over 100 years of combined experience, MAC Relocations help companies of all sizes with local and national relocation, delivery & installation, facility decommissioning, storage, and much more. We provide the highest value in the commercial moving and storage industry. Contact us!