Best Office Movers in Chicago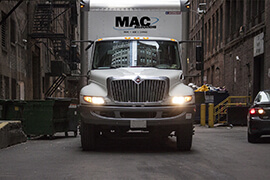 Relocating a business requires detailed planning and organization and therefore MAC Relocations will continue to be the best office movers in Chicago. When changing workspaces, not everyone has the luxury of continuing day-to-day operations while planning for the big move. MAC Relocations is here to step in so your mind can be focused on your business's future. When you hire us as your movers, we are now a part of your team.
At MAC Relocations we treat your business relocation as if it were our own. Each project is assigned a moving consultant that will work with your management staff. By having our team meet with yours we can set clear goals. Our goal in any move is to relocate your business accurately and precisely. Our expert movers will set you up for success.
Our process includes set-up strategies and even document destruction. In any move, it is important to maximize efficiency and these services are what separates us from other relocation services.
Mac Relocations is here to help. If you want the best for your business, you need to hire the Best Office Movers in Chicago. At MAC Relocations we are solution-focused. We understand the important task we have ahead, and you can always count on us to execute it.