MAC Cubicle Movers in Chicago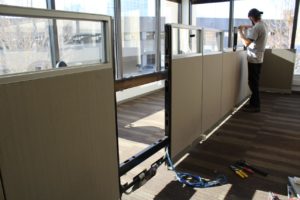 A detailed office setup is a key component in a productive business. The proper office furniture can set the tone of the office environment. Cubicles have become a favorite amongst office furniture because of the privacy, organization, and sleekness they can add to a place. Installing cubicles is not always an easy task, but at MAC Relocations we have expert cubicle movers. MAC Relocations mastered installing primary cubicle brands such as Herman Miller AO2, Herman Miller Ethospace, Haworth Compose, and many more. We help all our clients create an ideal office setting whether it is through moving, decommissioning, or even installing.
One of MAC Relocations' specialties within our moving services is cubicle removal. Businesses often change their office location but want to sustain their office setup. Moving cubicles can be a difficult task depending on the quantity and dimensions of your office setup. This is why MAC relocations send a moving consultant to every job site. By performing walk-throughs, we can determine the skill and manpower need for business relocation. We handle all your assets gently to preserve them for installation. In moves that involve cubicles, we also plan to space within the truck for delivery. Your cubicles are guaranteed to be delivered in their original state.
In the hustle and bustle of a busy city like Chicago, it is important to have reliable office movers. Whether it is a move in Chicago or surrounding suburbs, MAC Relocations is always prepared for your business relocation. We have also installed cubicles in Indiana and Wisconsin. If you are looking for an amazing cubicle installation, please feel free to reach out for a quote. We are Chicago's Expert Cubicle Installers and Movers. MAC Relocation can bring your office vision to life.